Roses Natural
Regular price
Sale price
$13.99
Unit price
per
Sale
Sold out
Roses  Natural Shower Steamer is a delightful addition to your self-care routine that brings the invigorating essence of nature right into your shower. Infused with the refreshing scents of Peppermint and Eucalyptus essential oils, Lavender essential oil, and Citrus essential oil, these steamers are designed to transform your daily shower into a rejuvenating experience that awakens your senses and revitalizes your spirit.

Imagine stepping into your shower and being greeted by natural aromas.  Roses Natural Shower Steamers create a spa-like ambiance right in the comfort of your bathroom. As you place one on the shower floor, it dissolves slowly, releasing a burst of Peppermint and Eucalyptus aroma, soothing Lavender aroma, or Uplifting Citrus aroma that uplifts your mood and invigorates your mind.

The power of aromatherapy is harnessed in every steamer. The Peppermint essential oil brings a cooling and refreshing sensation, while the Eucalyptus oil provides a soothing and cleansing effect. Together, they create a harmonious blend that not only delights your senses but also offers therapeutic benefits. Breathe in deeply and feel the airways open up as the fragrances envelop you in a gentle embrace.

We understand the importance of self-care, especially in today's fast-paced world. Our Natural Shower Steamers offer you a moment of indulgence, a pause in your day where you can focus on your well-being. Whether you're starting your morning with a burst of energy or winding down after a long day, these steamers are the perfect companions.

Incorporate  Roses Natural Shower Steamers into your routine and discover a new way to embrace self-care. Elevate your shower time from a mere routine to a cherished ritual that nourishes your body and soul. Immerse yourself in the refreshing scents of Peppermint and Eucalyptus, Lavender, and Citrus aromatherapy, and let the natural goodness wash over you in waves of relaxation and revitalization.
Infused with Essential oil of Mint, Citrus, or Lavender
6 shower steamers
Helps soothe sinus and nasal congestion 
Non artificial color
Ingredients: Baking Soda, Citric Acid, Coconut Oil, Eucalyptus Essential Oil, Menthol Crystals, Peppermint Essential Oil, Water.
Direction: Get one shower steamer wet and place on the floor away from direct stream of water. Allow the warm water from the  shower to diffuse the oil, giving you relief from congestion.
 Caution: For external use only. Not intended for use in the bathtub. Keep out of the reach of children. Avoid contact with eyes. 

Disclaimer: This statement has not been approved by the Food and Drug Administration though the individual ingredients have. This product is not intended to diagnose, treat, cure, or prevent any disease. These products are intended for external use only. If irritation occurs, discontinue use immediately and contact us.
Share
View full details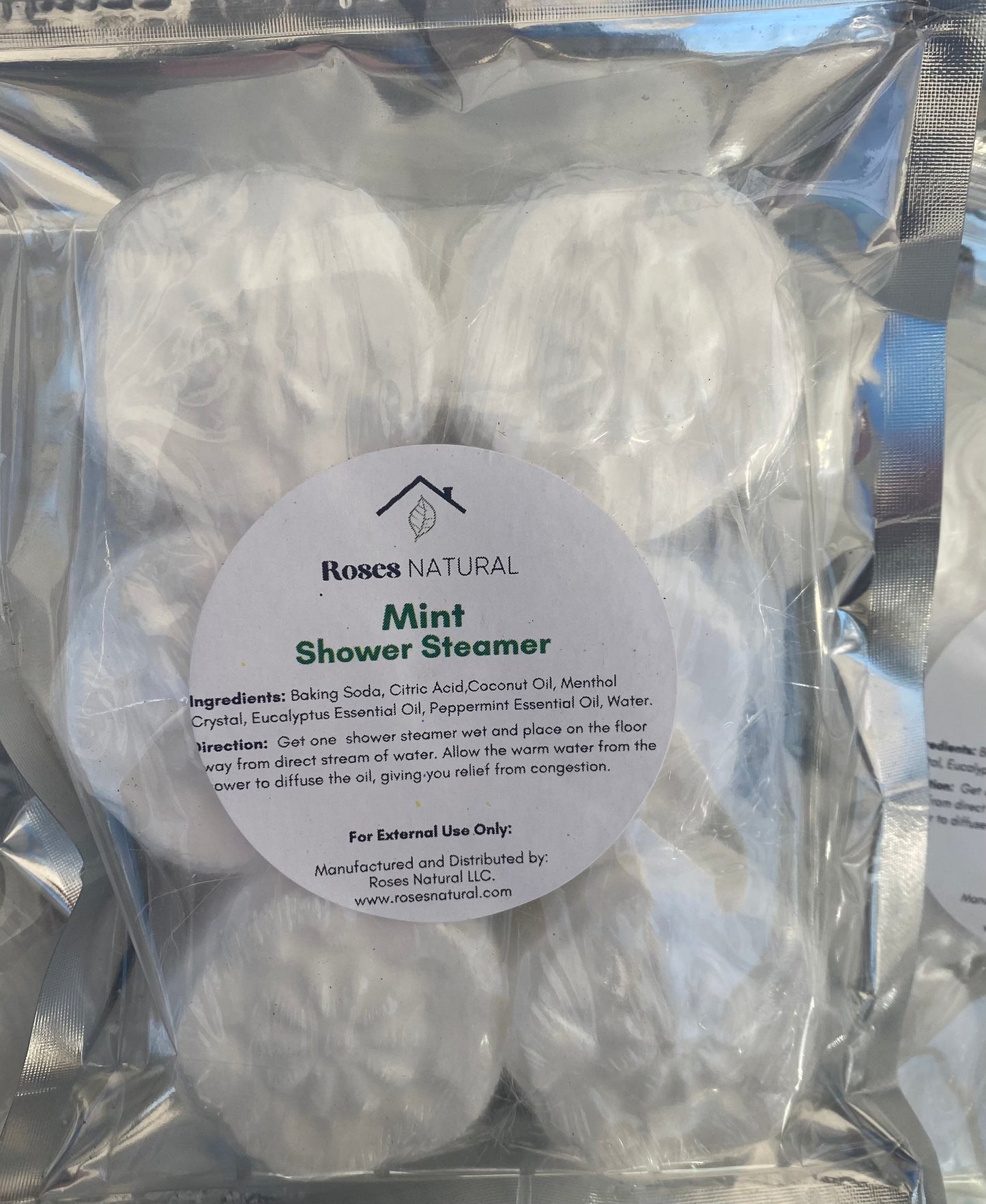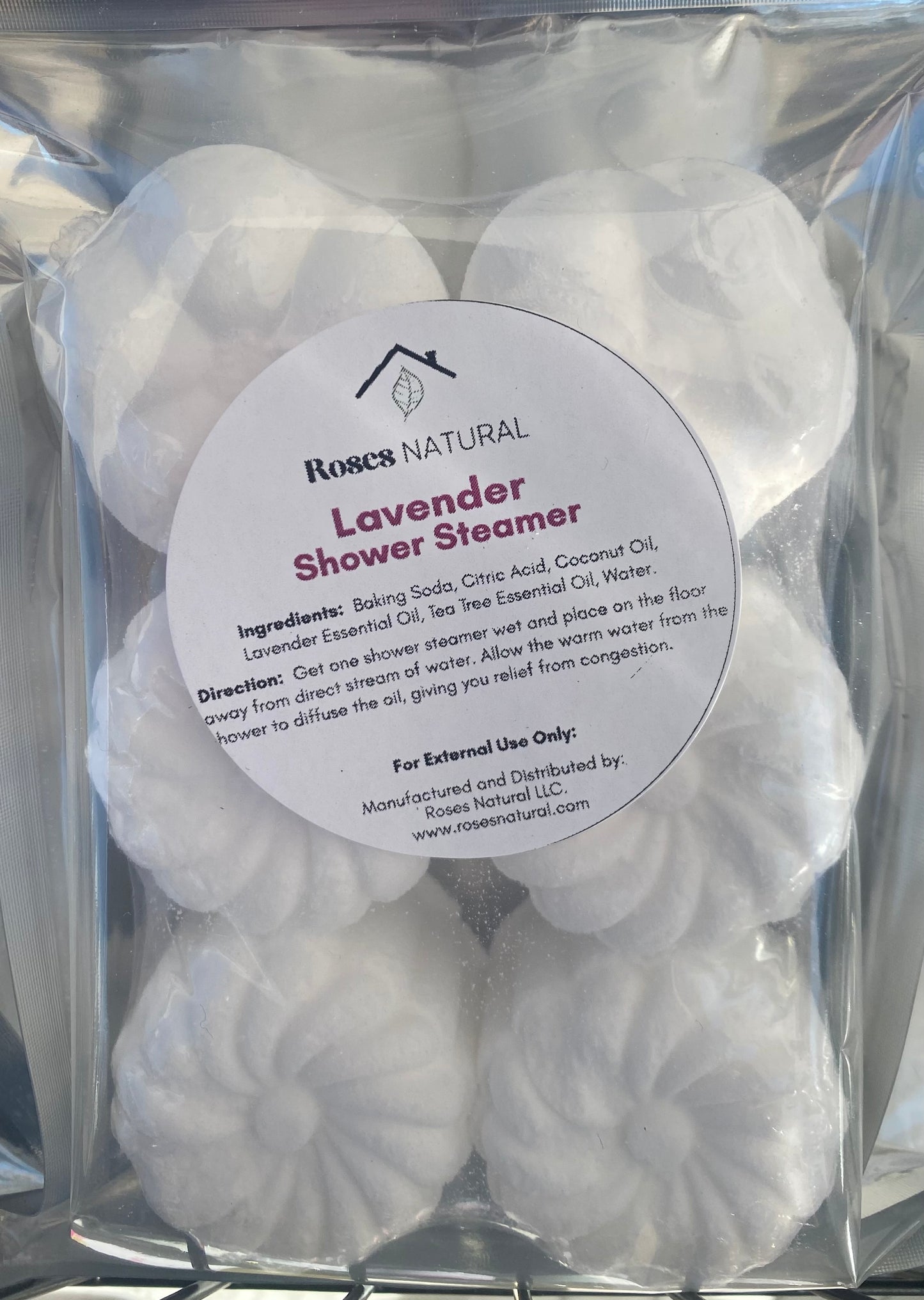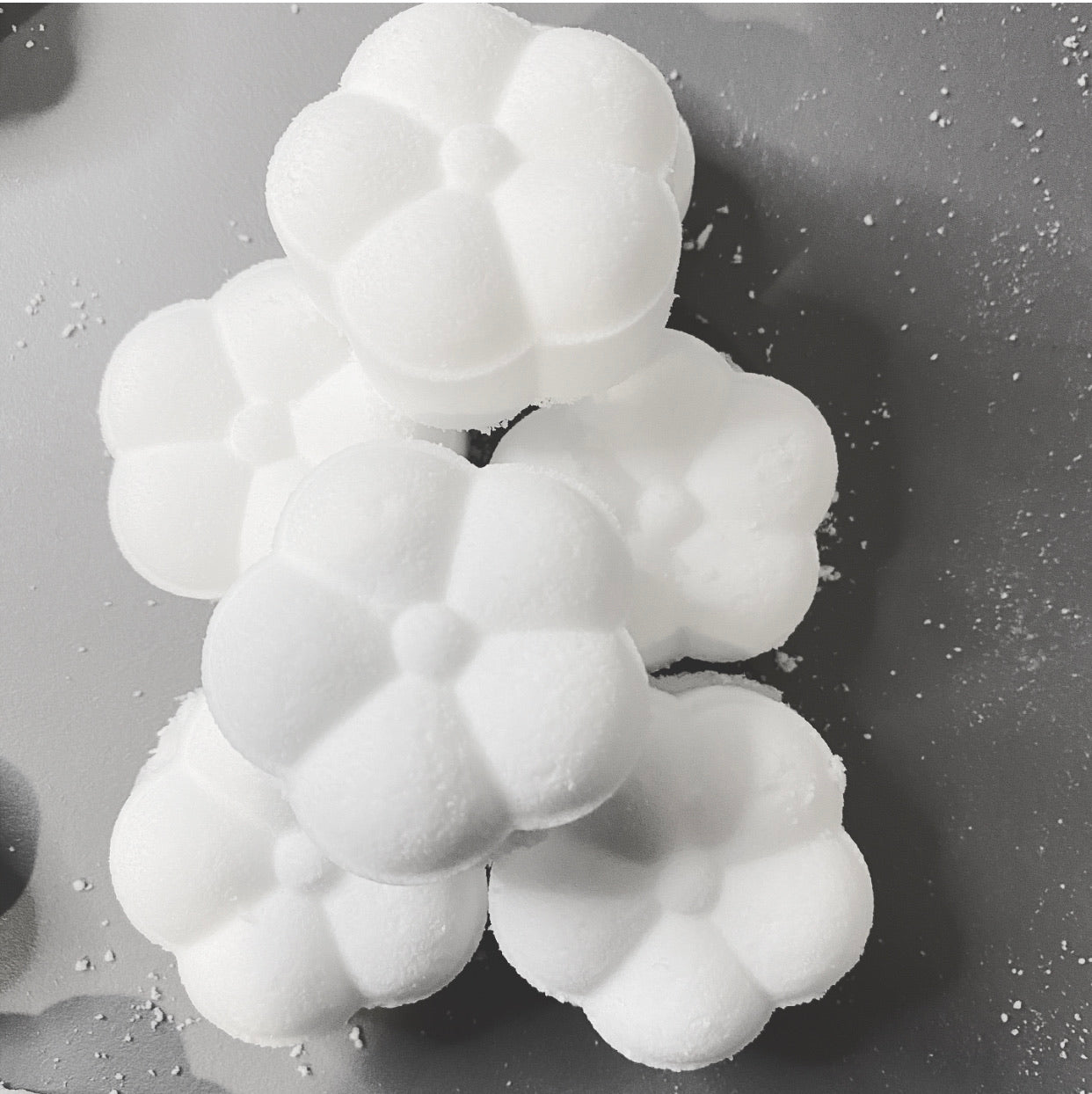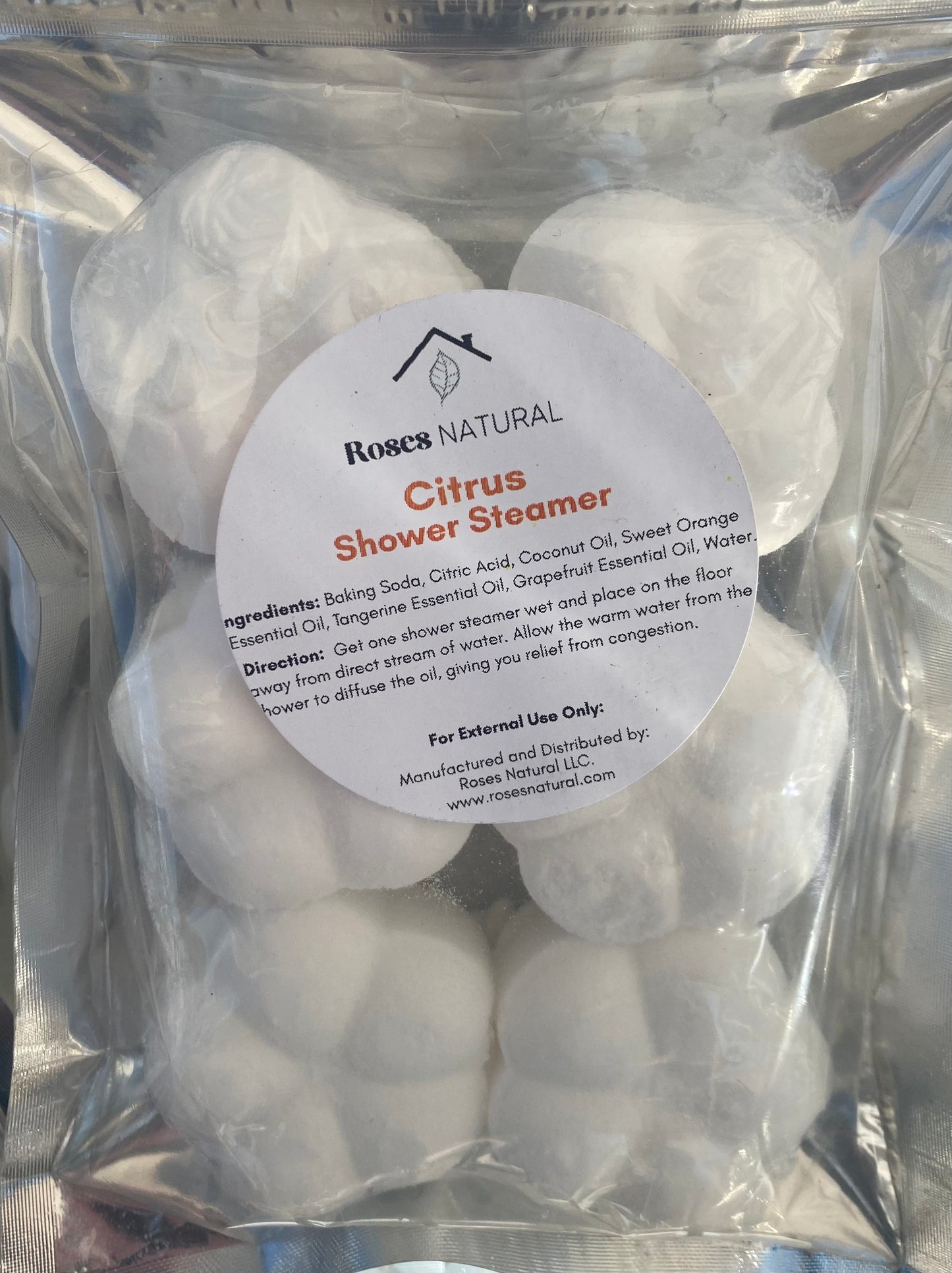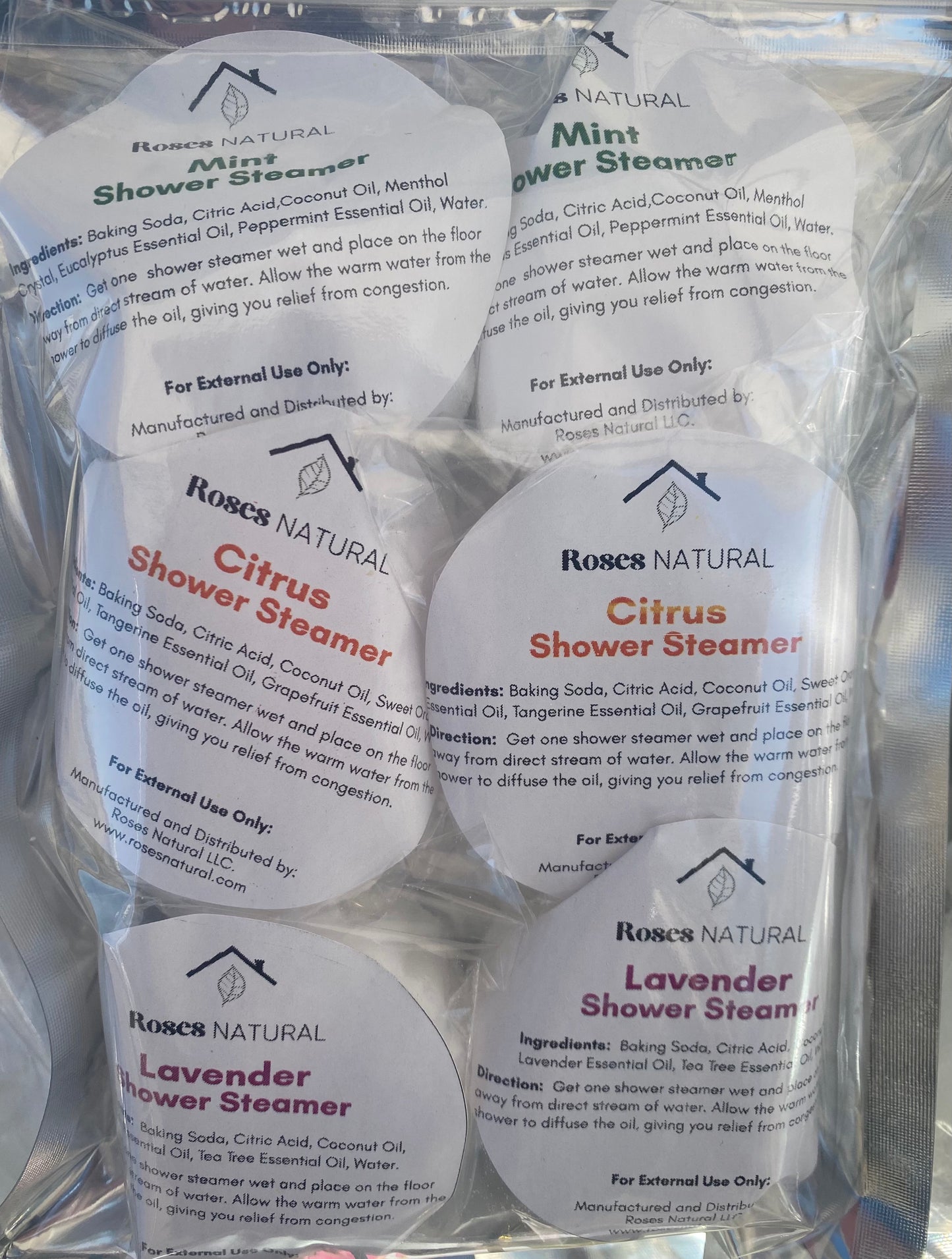 Awesome Shower Steamers
Absolutely love these shower steamers! I've tried mint, lavender and citrus. Every single one of them is wonderful. The mint ones are perfect for those days that you feel a little congested… Have a headache etc. but they all work so well. I highly recommend all three
Thank you for the review.
Excellent
I absolutely love all of her products and I use the shower steamers and give them as gifts. There is not a better product line on the market
Our household favorite!
The best shower steamers ever. Seriously. The quality of these is unmatched, they actually work! So far, I've tried the mint which will continue to be a bathroom staple for our house but I'm about to order the lavender too!! Love all of Roses products!
Great Shower Bombs!
The best shower bombs that I have tried! All of the others ones I have tried hardly left a scent. Then I tried Roses shower bombs and love them! The mint is my favorite, very fresh smelling!
this product right here
this product is very exclusive and effective in clearing our yr respiractory tract of any congestion .I use it and I highly recommend it.use it and clear out your sinuses .I use it for steam inhalation after long hours from the hospital.i highly recommend it.