Roses Natural
Regular price
Sale price
$18.99
Unit price
per
Sale
Sold out
Immerse your skin in the exquisite luxury of Roses Natural Rose Face Oil. This enchanting blend is carefully handcrafted to deliver deep hydration and nourishment while working tirelessly to repair damaged skin and stimulate collagen production.
The harmonious fusion of plant-based oils, Rose essential oil, and delicate rose petals creates a symphony of beauty and rejuvenation. Experience the transformative power of safflower oil, grape seed oil, and avocado oil, as they nourish and hydrate, while jojoba oil and rosehip oil repair and restore. Let vitamin E provide antioxidant protection, while rose essential oil and rose petals soothe the senses. Unveil radiant, revitalized skin with Roses Natural Rose Face Oil.
Here are 5 benefits why our Rose Face Oil should be part of your skincare routine;
Deep Hydration:  It provides intense hydration to the skin, helping to replenish moisture and restore its natural balance. This deeply hydrating property helps to combat dryness, leaving your skin soft, smooth, and supple.

Nourishment: Packed with essential nutrients, our Rose face oil nourishes the skin, delivering a wide range of vitamins, antioxidants, and fatty acids. These nourishing components help to promote a healthy complexion, providing the skin with the necessary nutrients it needs to thrive.

Repair and Regeneration: It has potent skin-repairing properties, making it effective in addressing various skin concerns. It helps to repair damaged skin, soothe irritation, and reduce redness. Additionally, it stimulates collagen production, supporting the skin's natural regeneration process for a more youthful and revitalized appearance.

Anti-Aging Effects: With its rich antioxidant content, our Rose face oil helps to fight the signs of aging. It helps to minimize the appearance of fine lines and wrinkles, promoting a smoother and more youthful complexion. Regular use of  this oil will improve skin elasticity and firmness, giving you a more vibrant and rejuvenated look.

Calming and Soothing: Known for its calming and soothing properties, Roses Natural Rose Face Oil helps to reduce inflammation and irritation, making it suitable for sensitive skin types. Applying this  oil will provide relief to stressed skin, leaving it feeling calm, balanced, and refreshed.

Incorporating Rose face oil into your skincare routine will provide all these incredible benefits, promoting a healthier, more radiant complexion.
Direction:
Apply 3 drops of Rose Oil onto clean hands. Massage the oil on your face and neck in a circular motion twice daily. 
Ingredients:
Safflower Oil, Grapeseed Oil, Avocado Oil, Jojoba Oil, Rosehip Oil, Vitamin E, Rose Essential Oil, Rose Petals. 
Share
View full details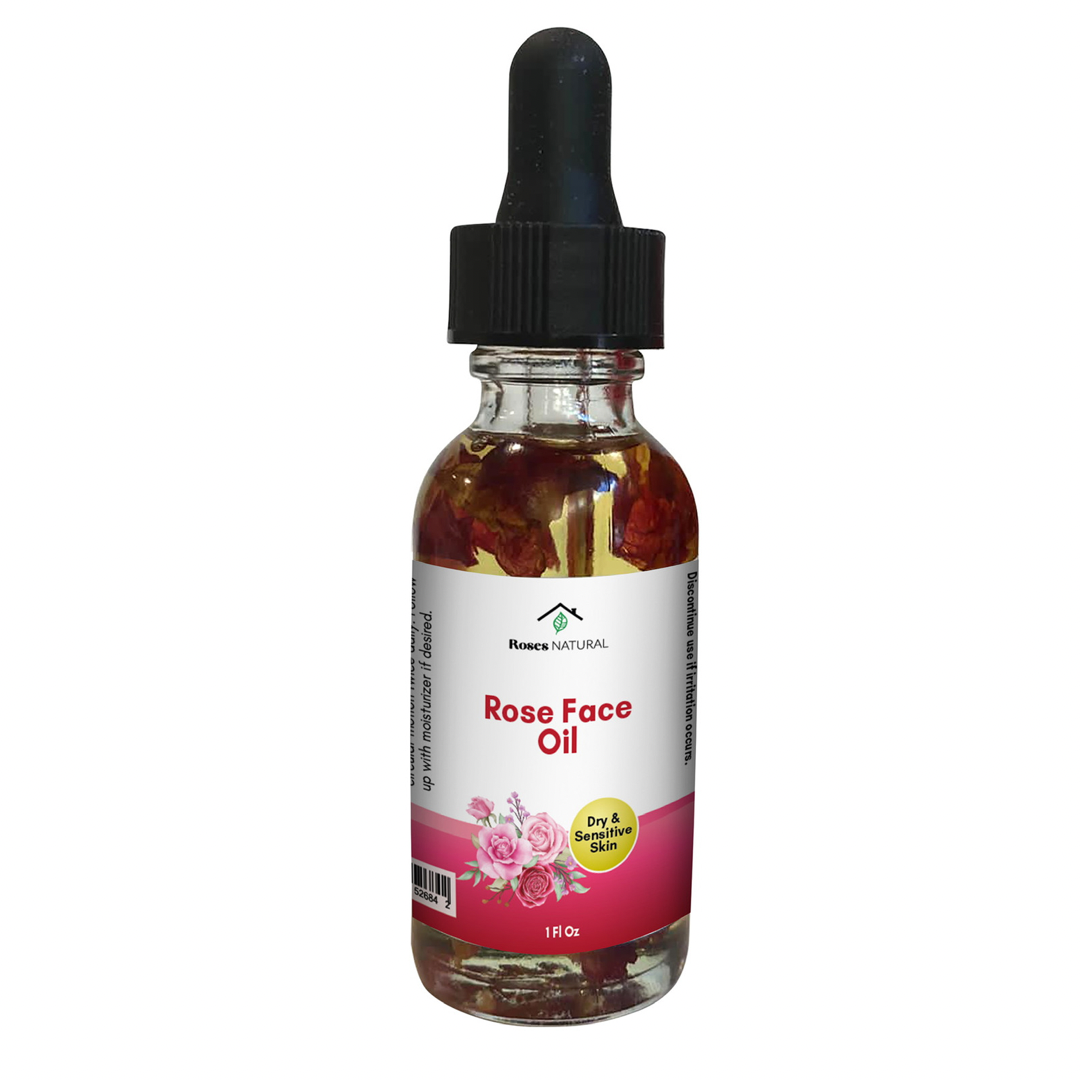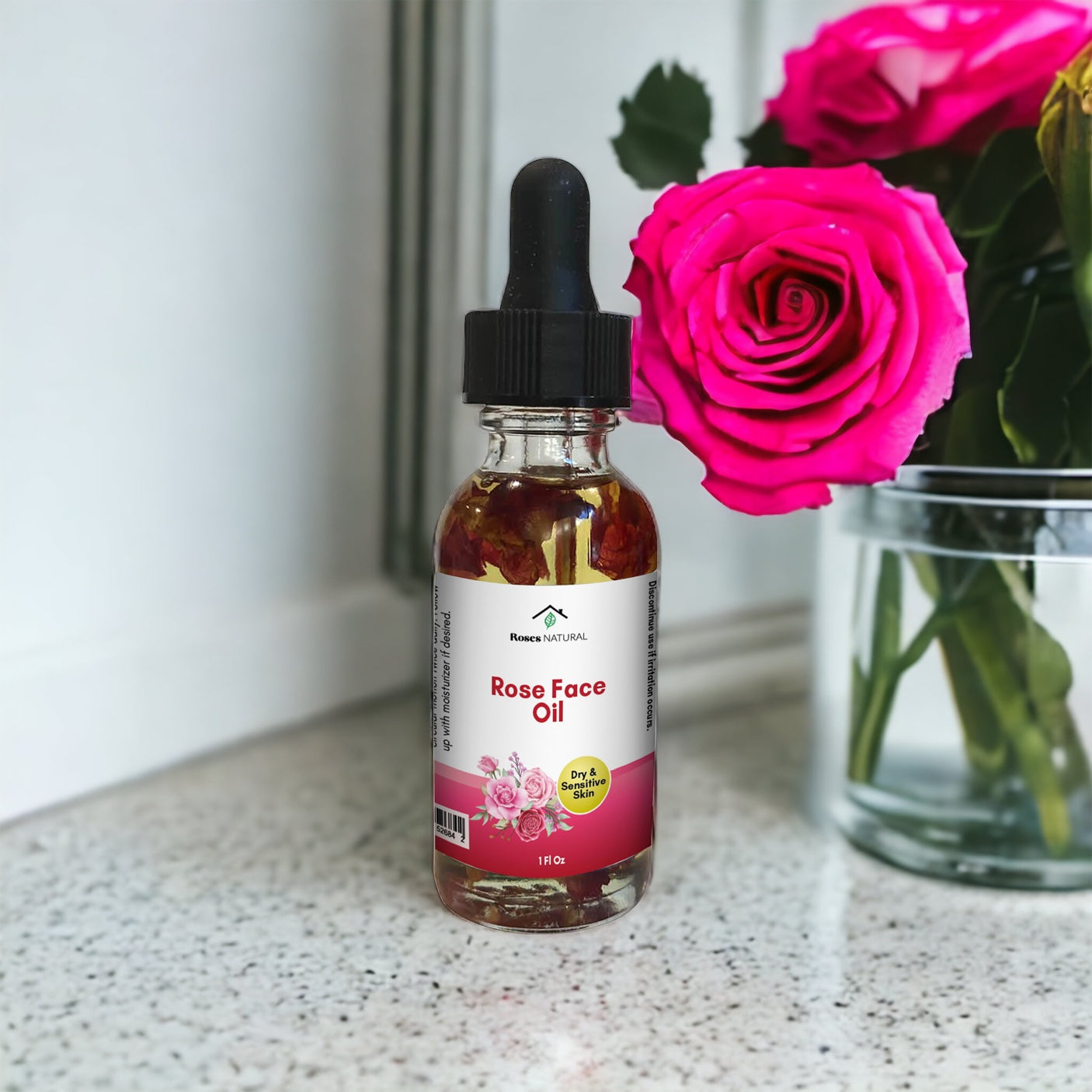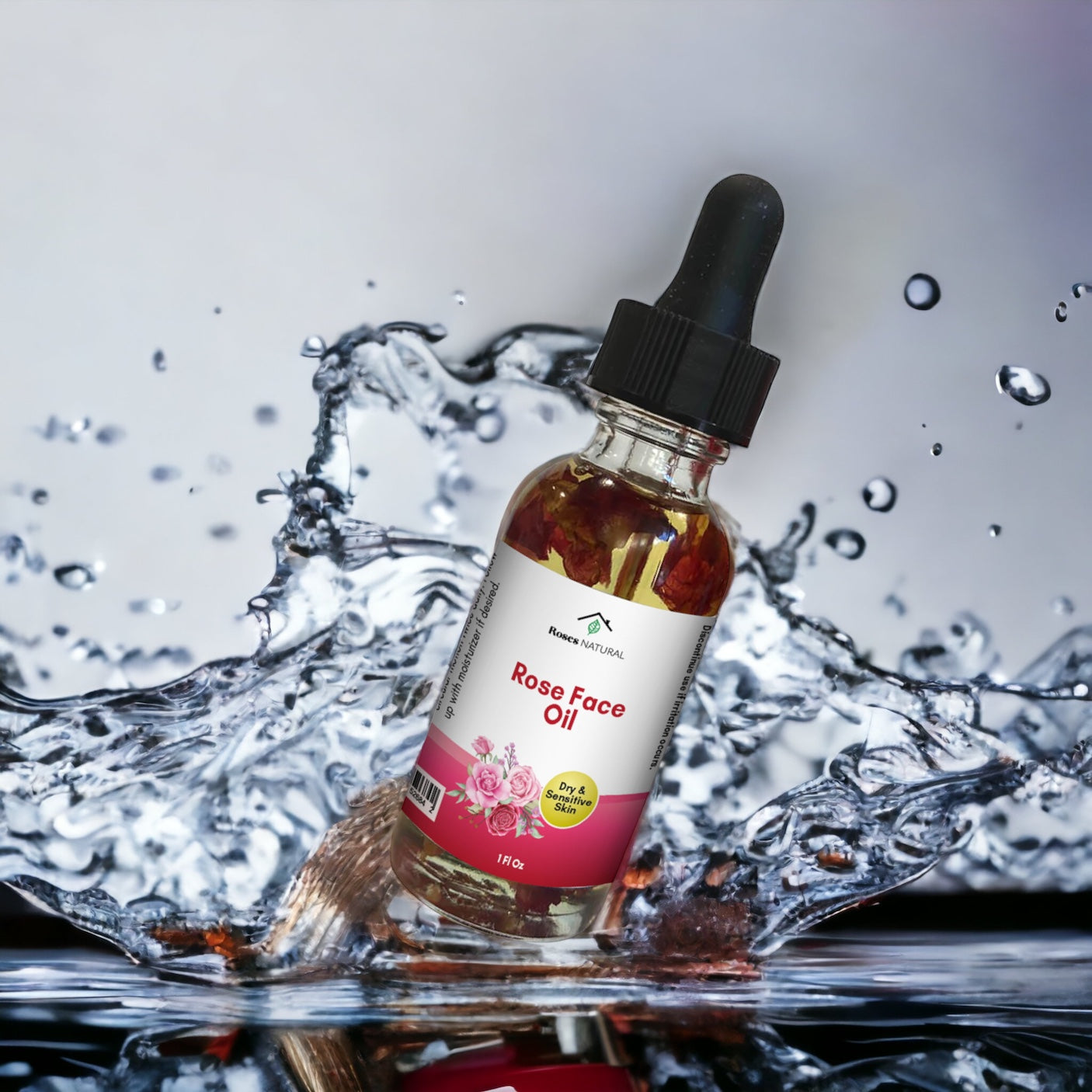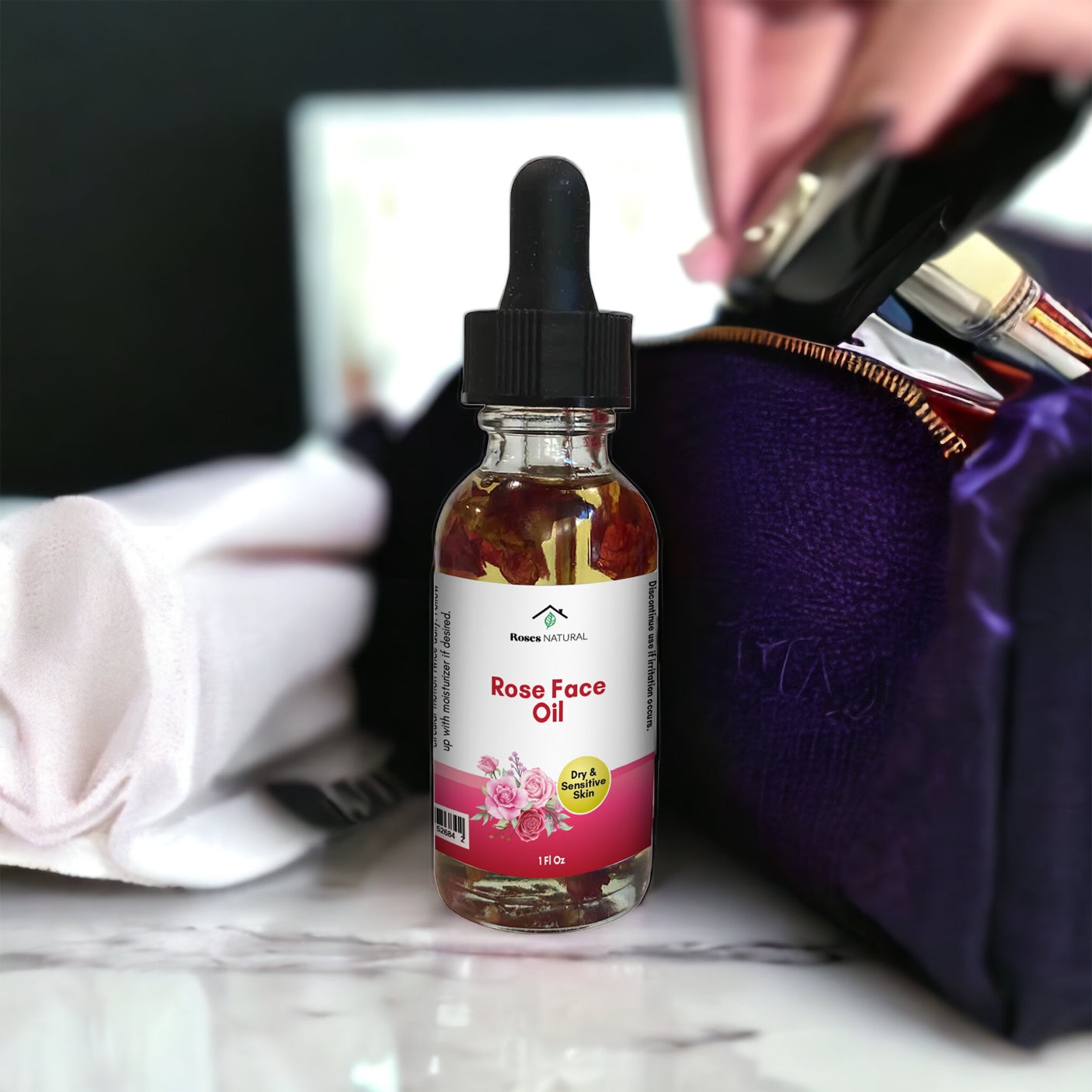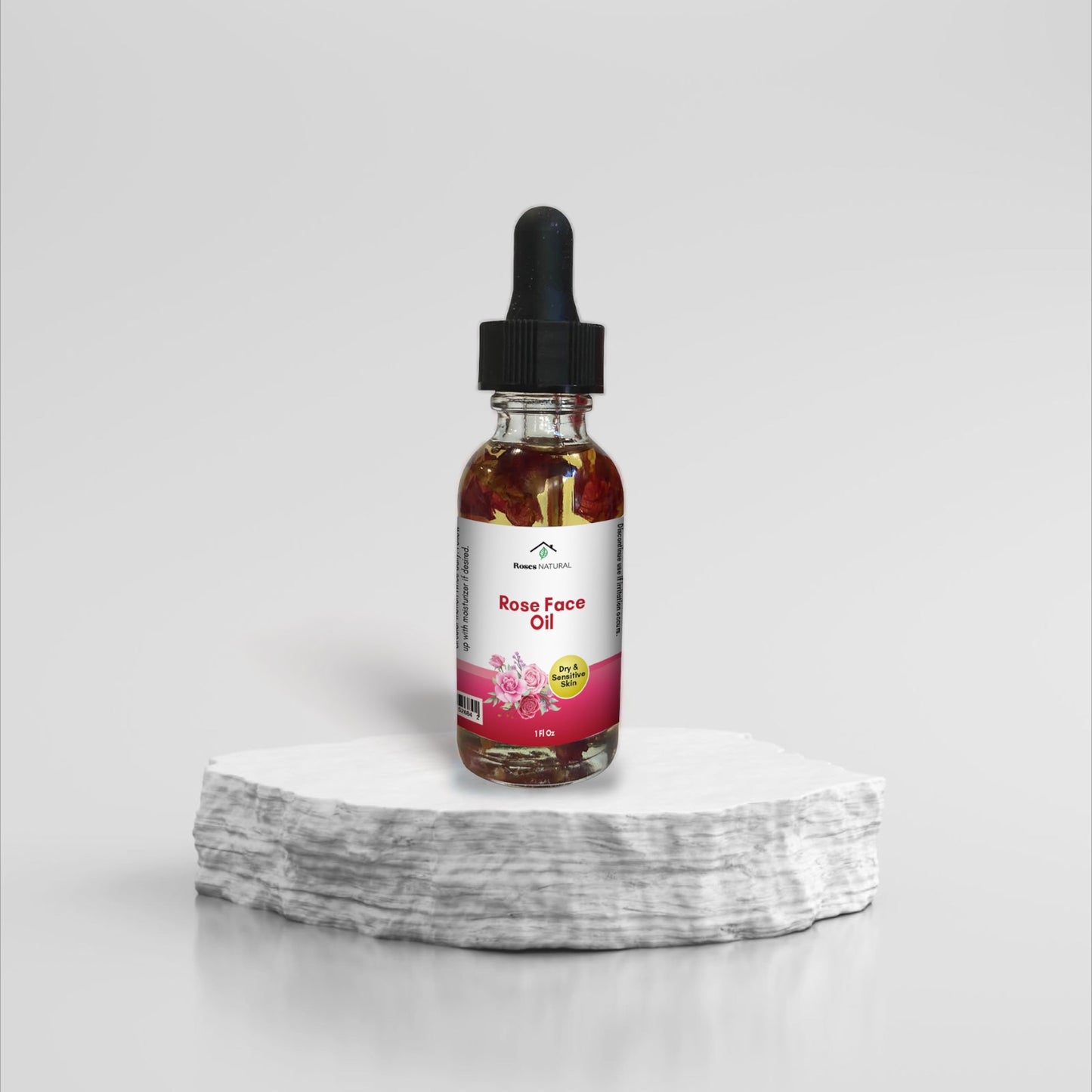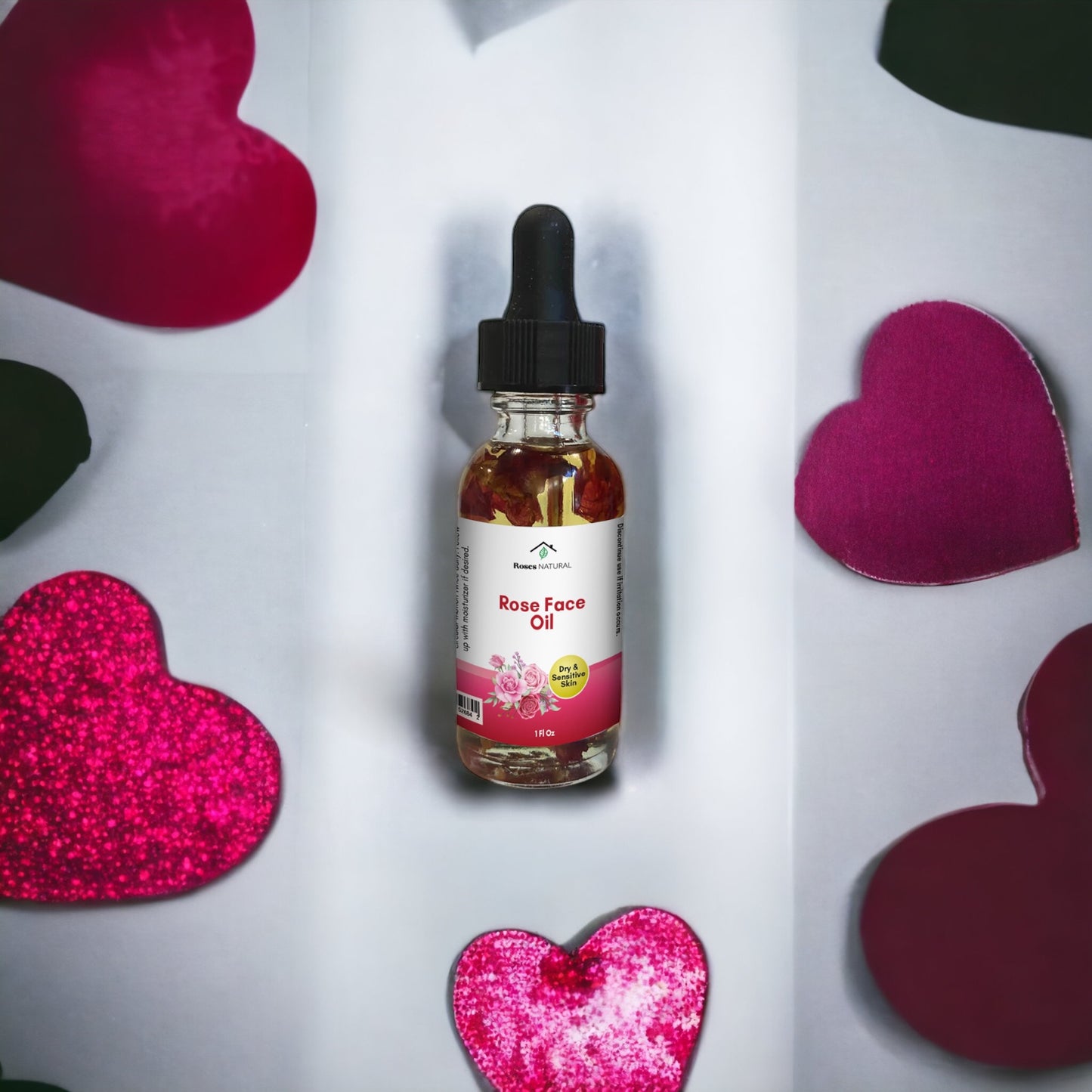 Jan's review
I love this oil! It smells wonderful, is very hydrated, and does not clog your pores
Thank you Jan for taking the time to leave us your feedback! We appreciate your support.