Roses Natural
Regular price
Sale price
$12.00
Unit price
per
Sale
Sold out
Roses Natural Luxurious Whipped Body Butter is made with a unique blend of unrefined Shea butter and nourishing oils that are great for skin and hair. It is non-greasy and absorbs well into the skin without leaving any residue. Whipped to perfection, it heals, protects, hydrates, and nourishes your skin, leaving it feeling smooth and soft all day.
A Luxurious Touch: This exceptional formulation is far from ordinary. Immerse yourself in the lavish embrace of unrefined Shea butter and nourishing oils, each working in harmony to envelop you in a cocoon of wellness.
Elegance in Absorption: Say goodbye to greasy residues. Our Body Butter is artfully designed to seamlessly meld with your skin, ensuring quick absorption without any unwelcome traces.
An All-in-One Miracle: Whipped to sheer perfection, Roses Natural Body Butter wears multiple hats – healing, protecting, hydrating, and nourishing. Revel in its transformative touch as it imbues your skin with a lasting smoothness and suppleness that's as enduring as your day.
Powerful Ingredients;
Shea Butter: Derived from the Karite Shea nut tree, it has anti-aging agents that protect your skin cells from free radicals. It is antibacterial, anti-fungal, and prevents acne. 
It also boosts collagen production. Help reduce stretch marks and scars. It offers sun protection.
Mango Butter: Derived from the mango pit, it contains essential fatty acids and antioxidants that are good for your skin. It is both lightweight and moisturizing. Vitamins C & A increase the skin's youthful appearance. This butter has been used for centuries due to its unique properties.
Coconut Oil: Derived from mature coconuts, this all-natural oil has anti-inflammatory properties and a high concentration of saturated fatty acids that help keep the skin hydrated, moisturized, and rejuvenated.
8 Oz Jar.
Ingredients: Shea Butter, Mango Butter, Coconut Oil, Jojoba Oil, Grapeseed Oil, Vitamin E, Arrowroot Powder, Essential Oils.
Disclaimer: This statement have not been approved by the Food and Drug Administration though the individual ingredients have. This product is not intended to diagnose, treat, cure, or prevent any disease. These products are intended for external use only. If irritation occurs, discontinue use immediately.
Share
View full details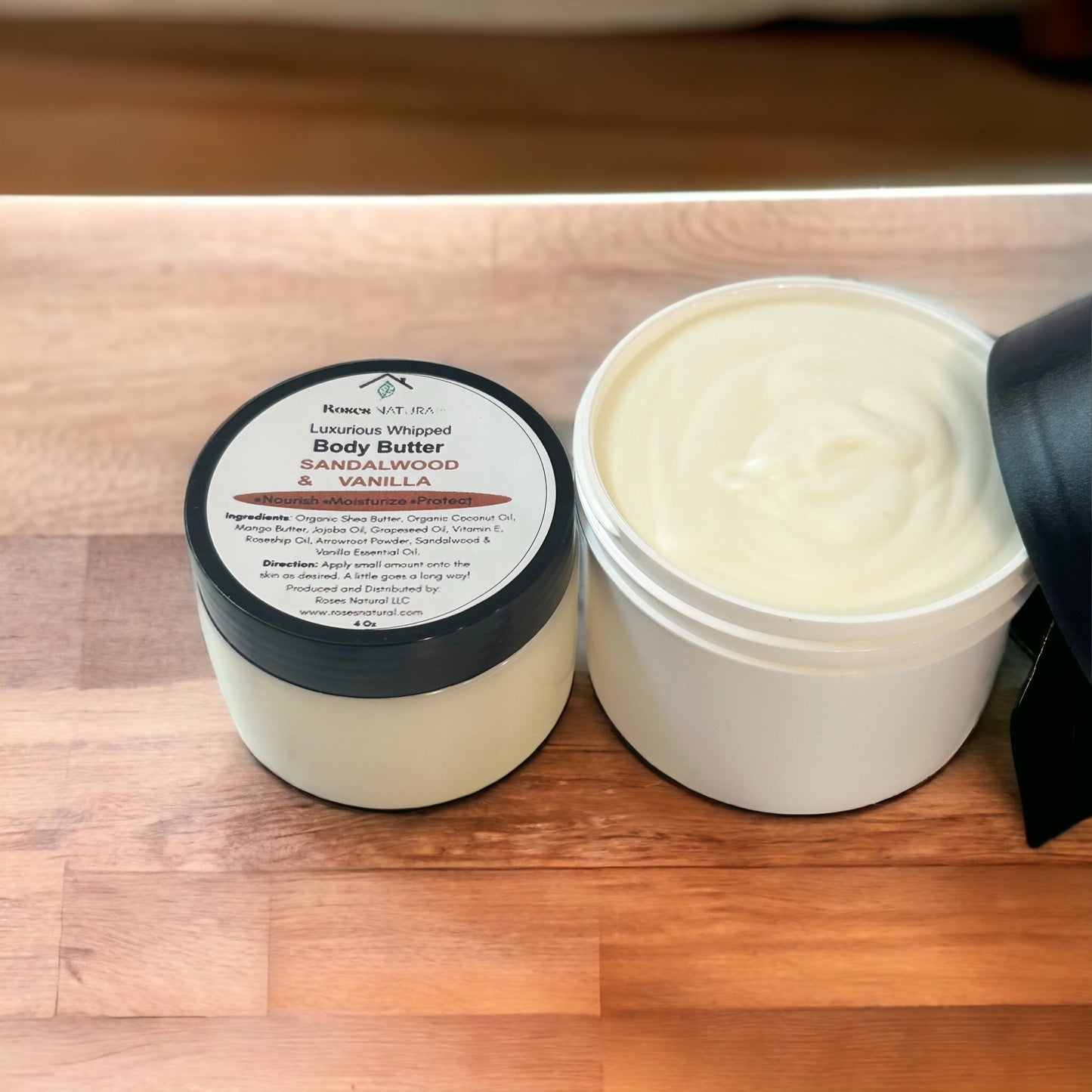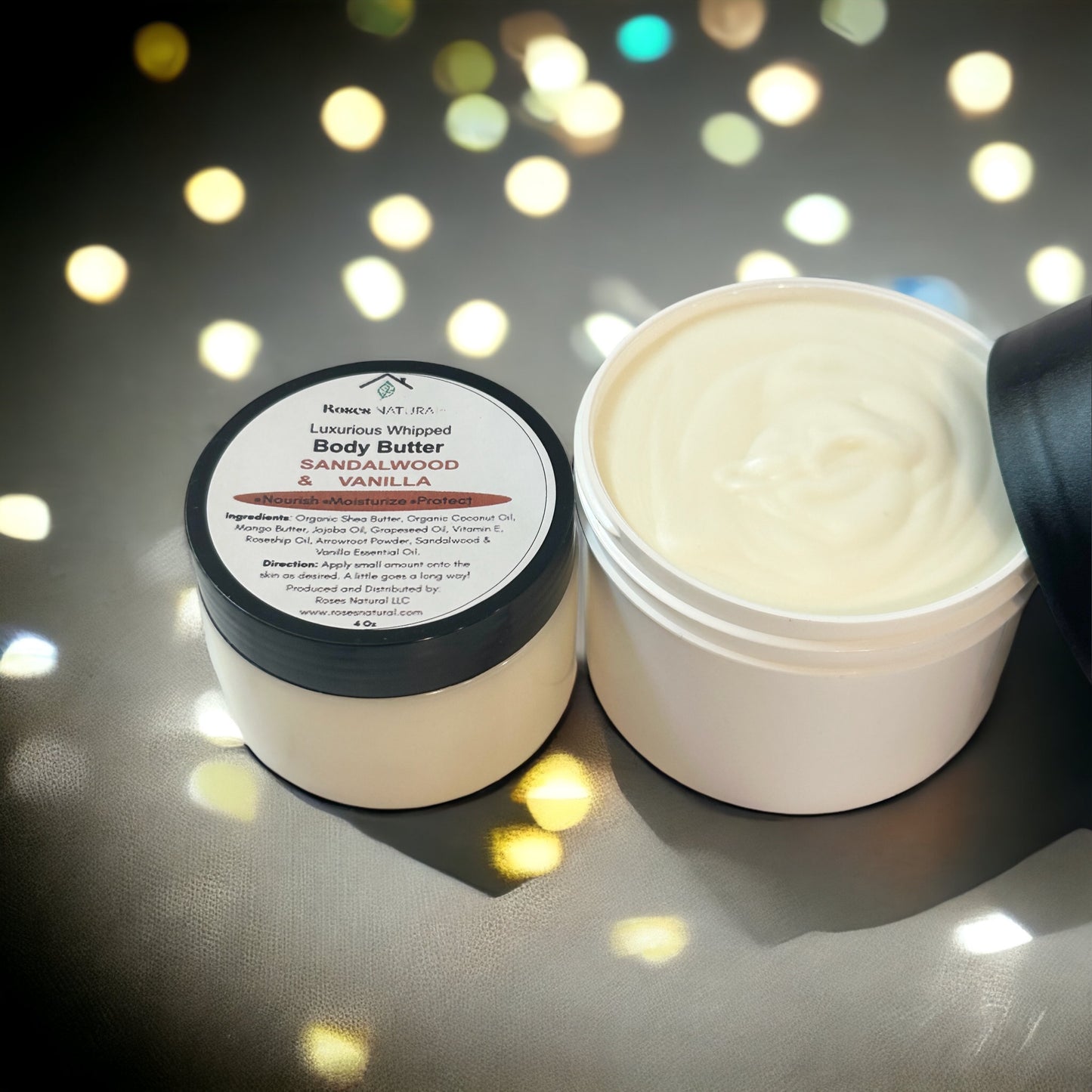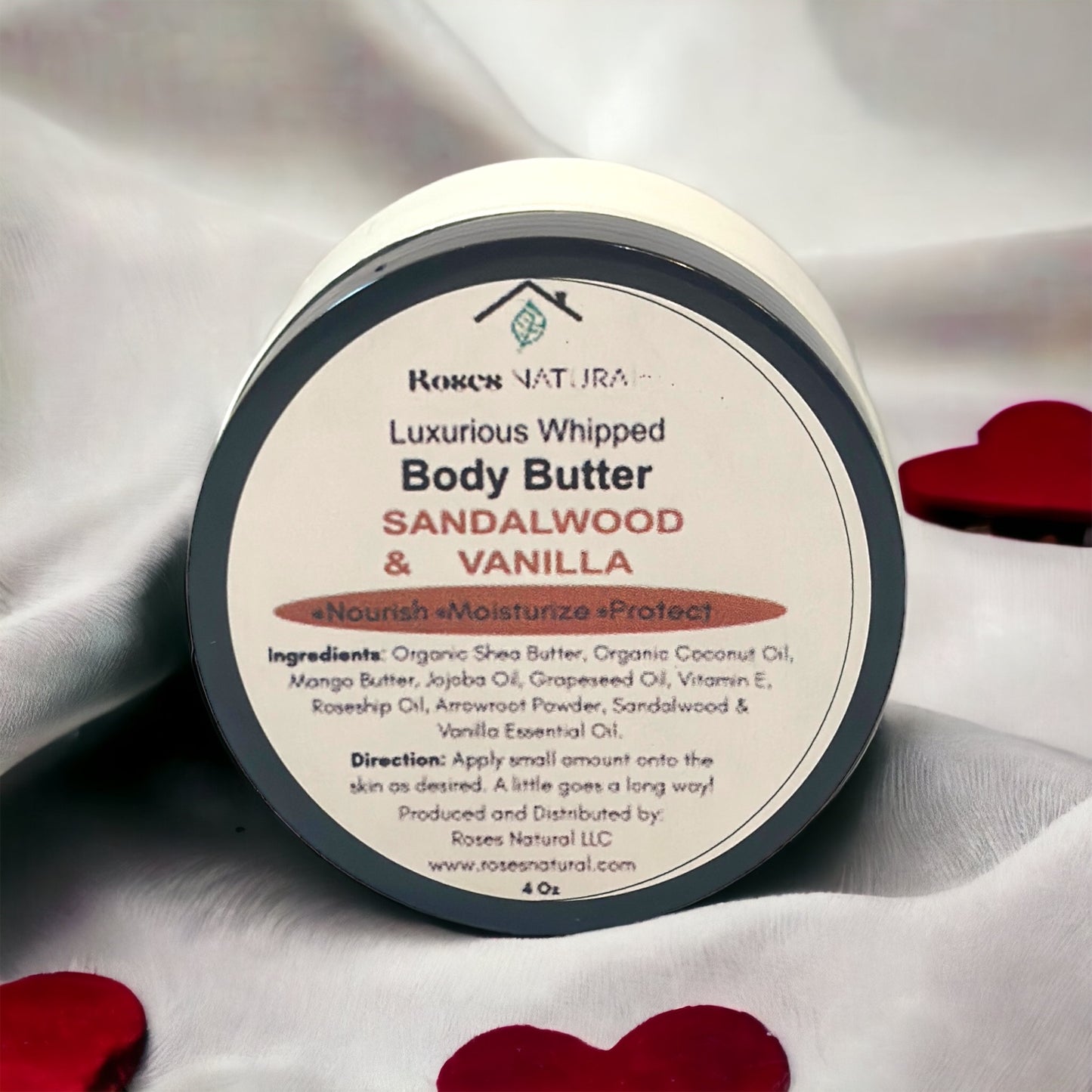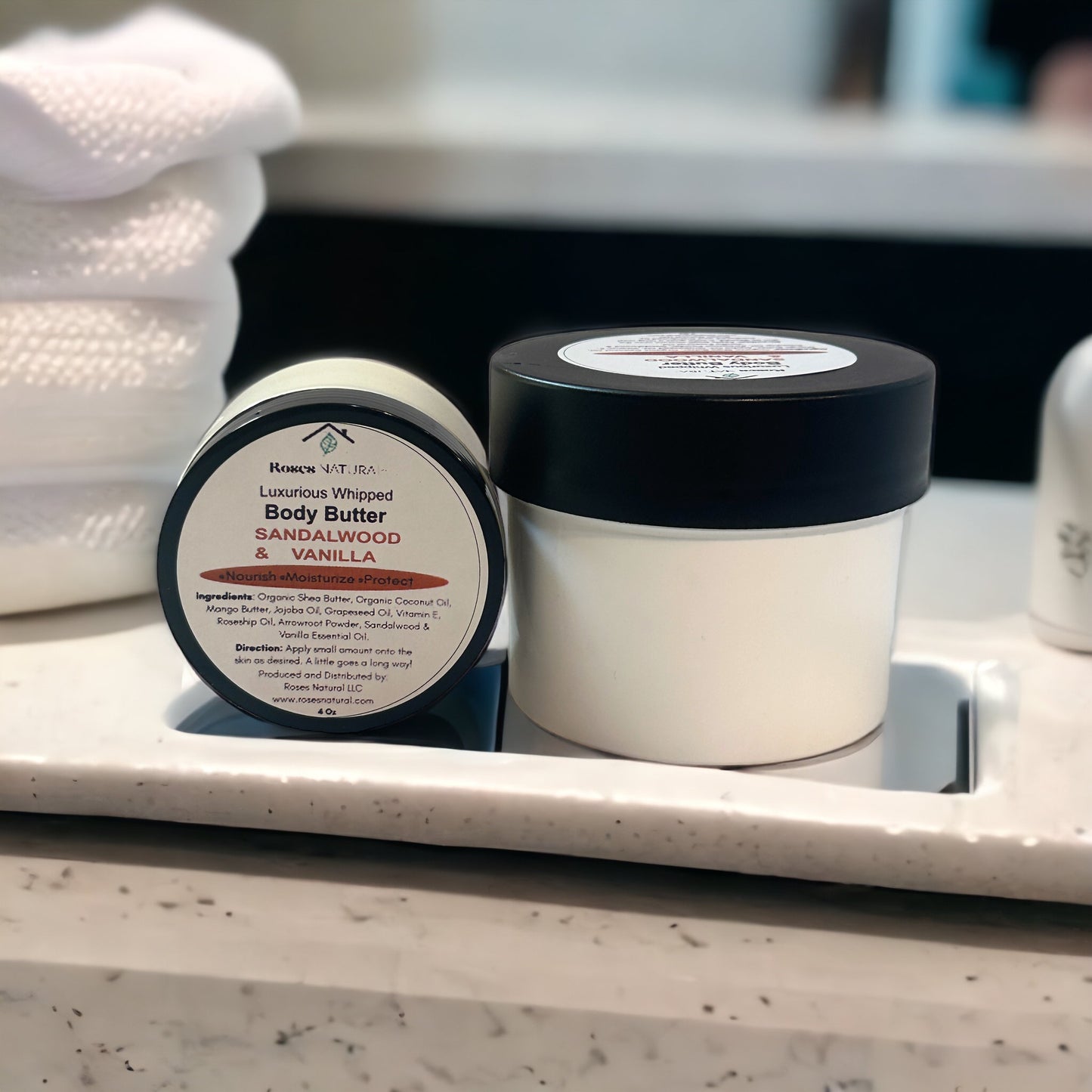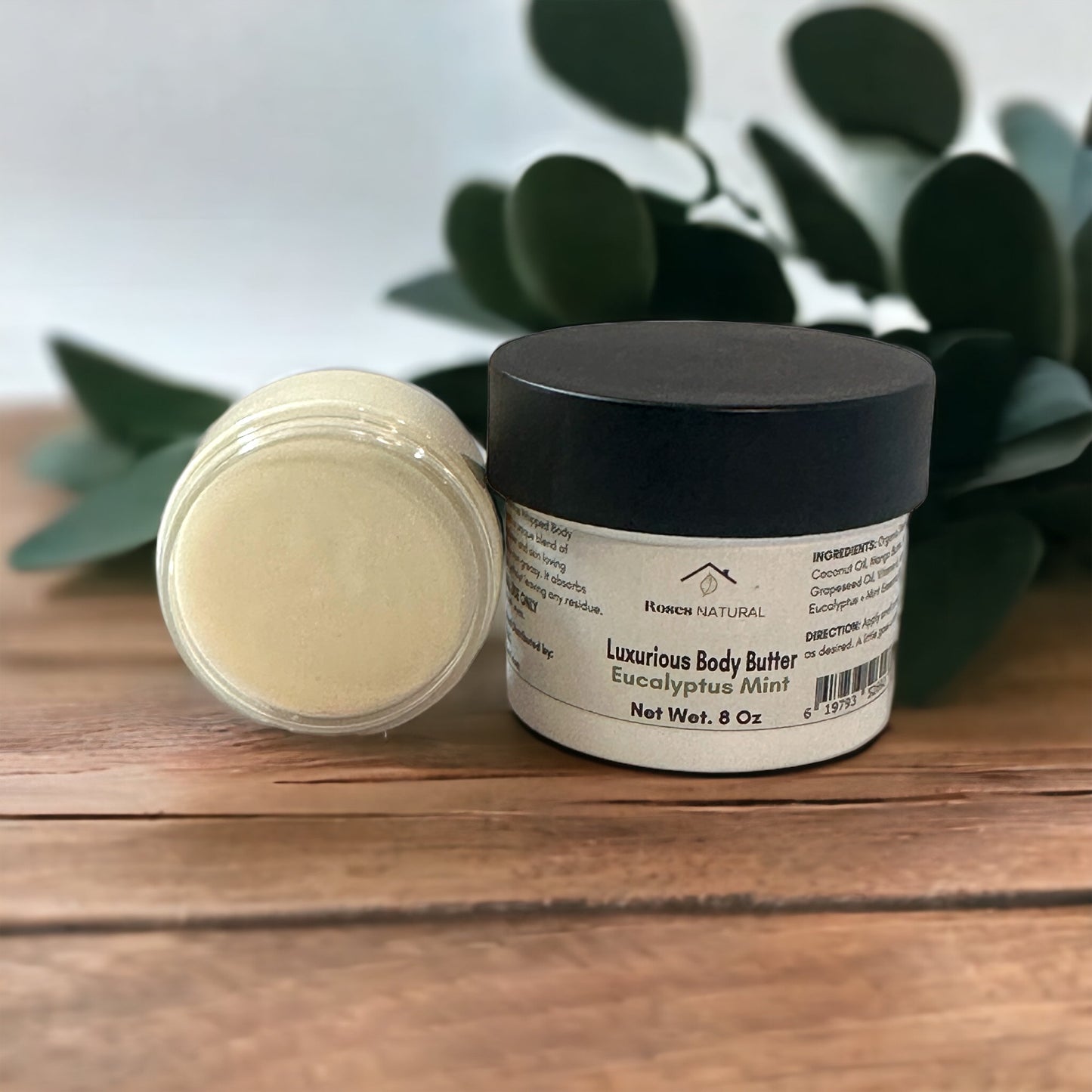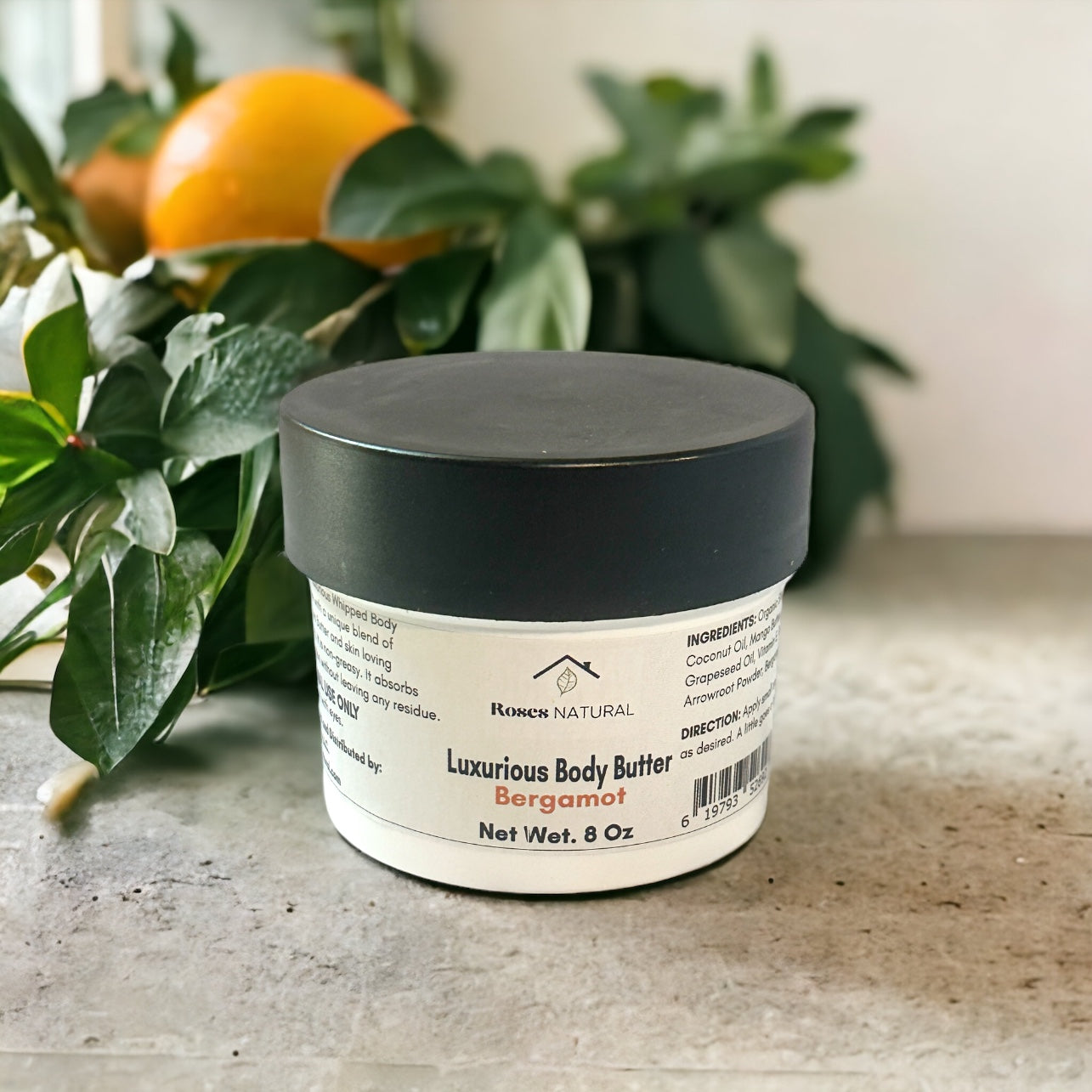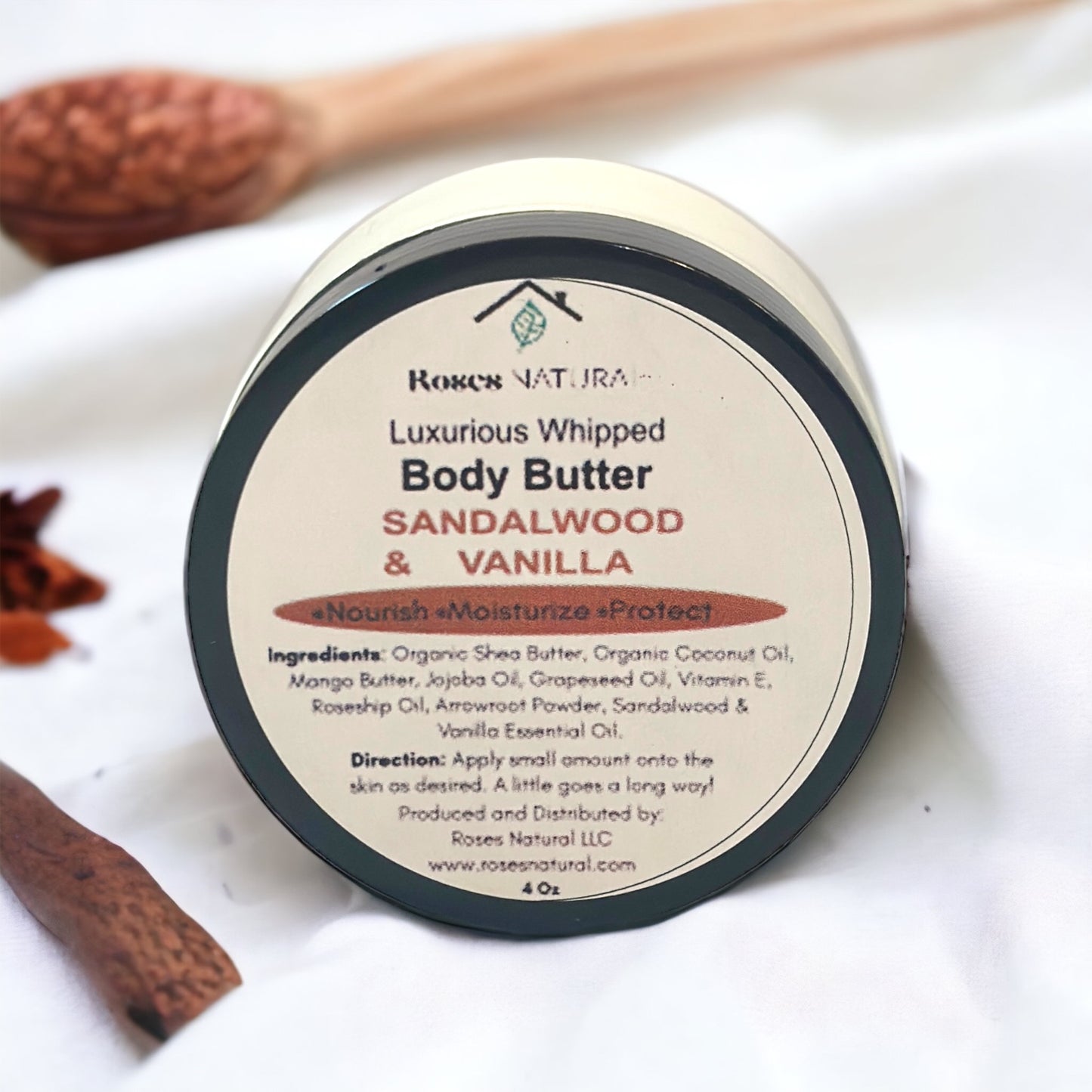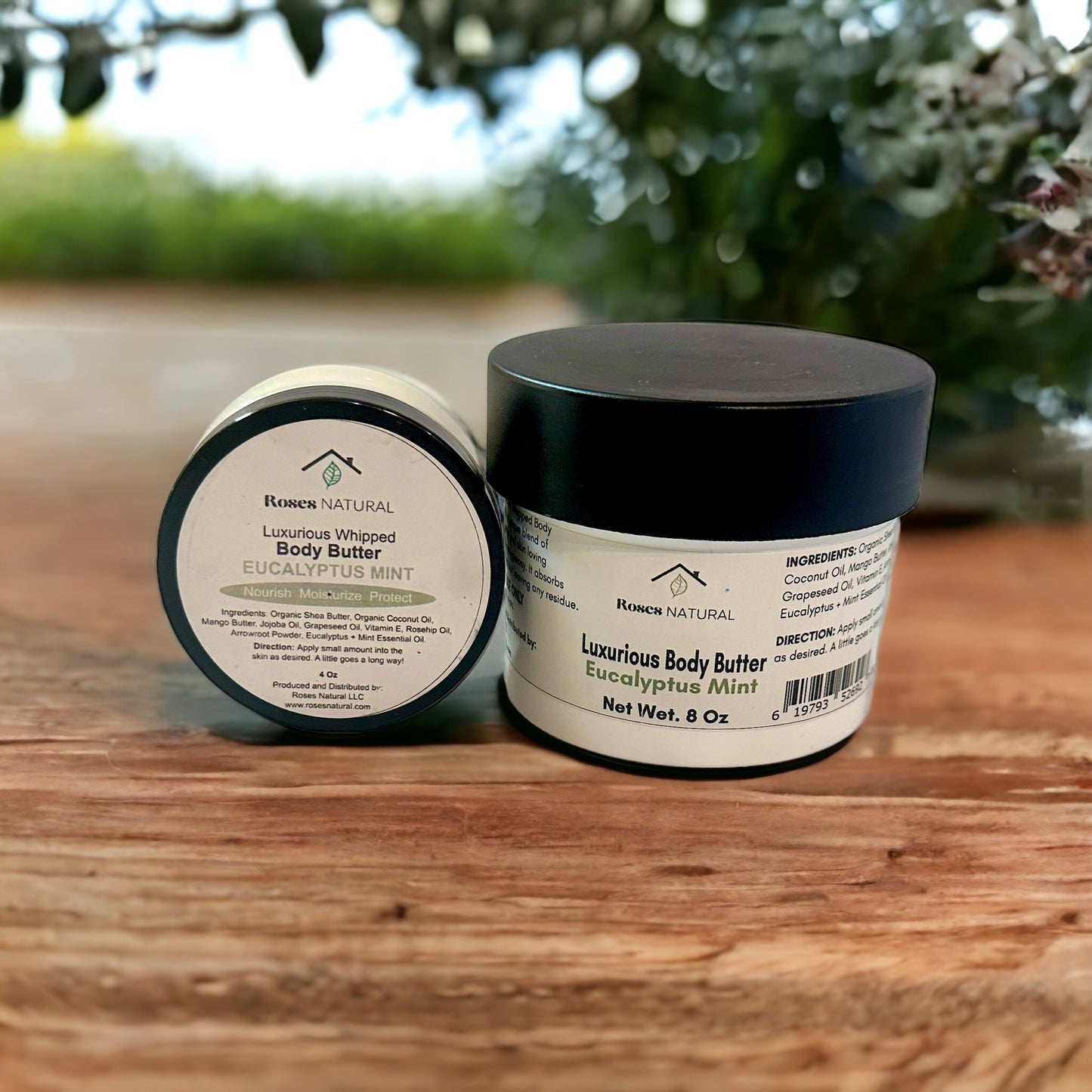 love this product!
it leaves my skin feeling silky soft
Thanks for letting us know. We appreciate your support and taking the time to write this review.
Moisturizes, Soft, & Gentle On The Skin.
I love the gentleness of my Luxurious Whipped Body Butter on my skin. The perfume is great. It spreads and feels so smooth instantly, living my skin feeling soft and moisturized for the whole day. I use it on my kids as well and we just love ❤️ it! You can't go wrong with the Luxurious Whipped Body Butter. I also purchased the African Black Soap Dandruff Shampoo and the Leave-in Conditioner. I had an immediate result after my first use. I recommend these products for a complete head to toe, luxurious body and hair care for the whole family.
Incomparable
Outstanding Products
(Luxurious Body butter)
This product was perfect to use, I felt it the first time I started using it the results are amazing they're awesome. It's really pleasant on my skin and brightened it. I used it once a day everyday and I noticed it has Sparkle up my skin more.
Am sure requesting for more....