Roses Natural
Regular price
Sale price
$20.00
Unit price
per
Sale
Sold out
Roses Natural Vitamin C Facial Cleanser is a gentle yet effective formula designed to elevate your skincare routine. This exquisite cleanser is carefully crafted to deeply cleanse, exfoliate, and brighten your skin, revealing a radiant and refreshed complexion.
 Enriched with the power of natural vitamin C, this cleanser helps reduce the appearance of fine lines and wrinkles, promoting a youthful and revitalized look. The antioxidant-rich formulation works diligently to buff away dead skin cells, unveiling a smoother and more even skin tone. Additionally, it provides a protective barrier against skin damage caused by environmental stressors.
Using our Vitamin C facial cleanser will help provide numerous benefits for your skin. Here are five key advantages:
Brightens and Evens Skin Tone: Vitamin C is known for its ability to reduce hyperpigmentation and promote a more even skin tone. Regular use of our Vitamin C facial cleanser will help fade dark spots, acne scars, and sun damage, leaving your skin looking brighter and more radiant.
Anti-Aging Properties: Vitamin C is a powerful antioxidant that helps stimulate collagen production, improving skin elasticity and firmness. Using our Vitamin C facial cleanser will help reduce the appearance of fine lines and wrinkles, resulting in a more youthful complexion.
Protects Against Environmental Damage: Vitamin C is effective in neutralizing free radicals, which are harmful molecules that contribute to skin damage caused by environmental factors like pollution and UV rays. Our Vitamin C facial cleanser will help protect your skin from these damaging effects and maintain its overall health and vitality.
Gentle Exfoliation: This Vitamin C facial cleanser contain gentle exfoliating properties that help remove dead skin cells and unclog pores. This exfoliation process will improve skin texture, promote cell turnover, and reveal a smoother and more refined complexion.
Hydration and Nourishment: It contains moisturizing ingredients that help keep your skin hydrated and nourished. This will prevent dryness and promote a supple, healthy-looking complexion.
By incorporating Roses Natural Vitamin C facial cleanser into your skincare routine, you can enjoy these benefits and achieve a more radiant, youthful, and rejuvenated appearance.
9 FL Oz
Ingredients: Purified Water, Caprylyl/Capryl Glucoside, Aloe Vera Extract, Cocamidoprophyl Betaine, Ascorbic Acid, Vegetable Glycerin, Willow Bark Extract, Hydroxyethylcellulose, Citric Acid, Vitamin E, Sweet Orange Essential Oil, Tea Tree Essential Oil, Sodium Benzoate, Potassium Sorbate.
For External Use Only.  Avoid contact with eyes. If contact occurs, rinse thoroughly with water. Keep out of reach children.
Direction: Dispense a small amount unto hands, gently lather cleanser on wet face and neck in a circular motion. Rinse and pat dry.
Share
View full details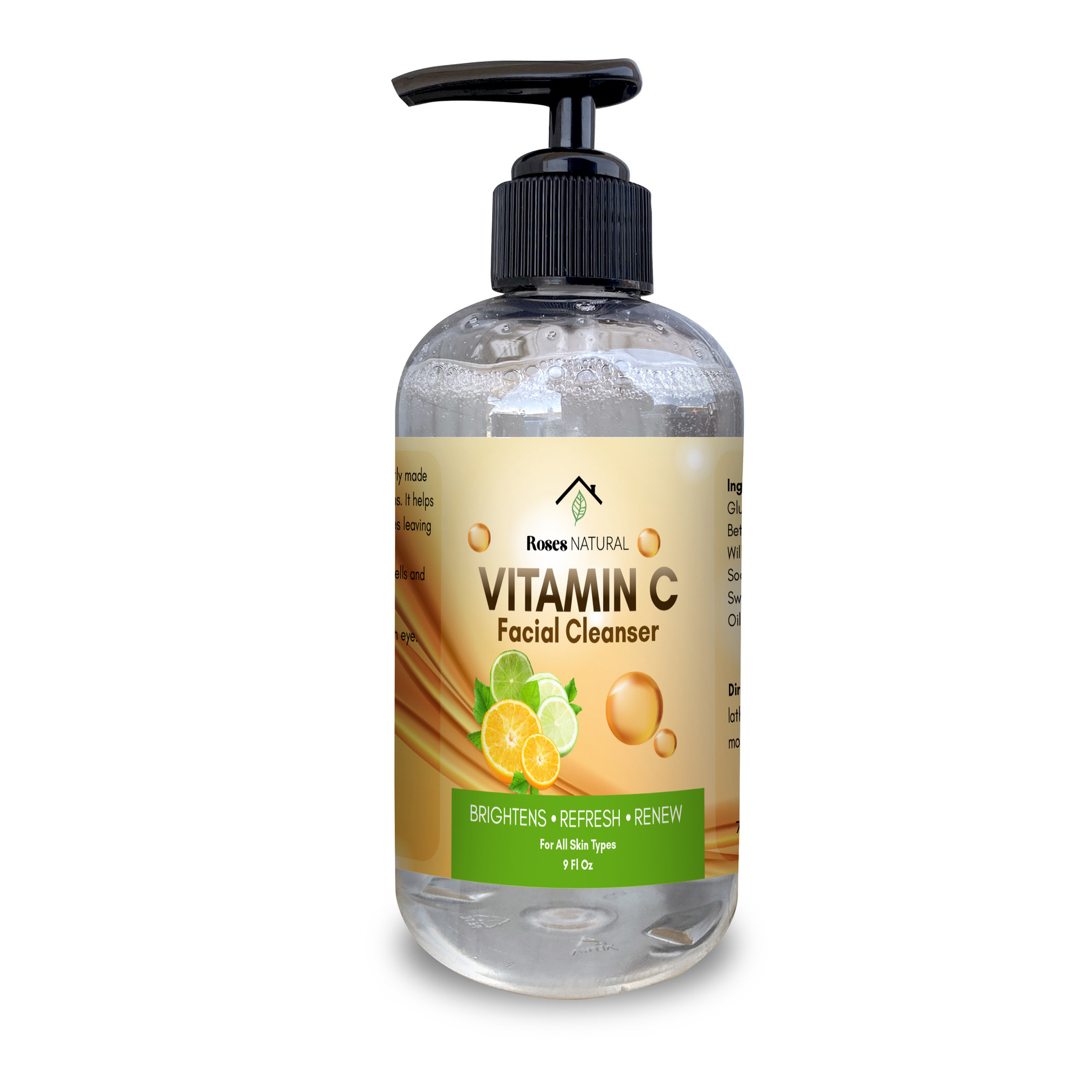 Gentle facial cleanser
This is my 3rd bottle. I have combination skin so it's difficult to find a cleanser that's not too harsh on drying or moisturizing and this cleanser does the trick! I use it in the morning and it's exactly what my face needs. Great product!!🌟🌟🌟🌟🌟
Thank you so much for your feedback. This means a lot to us.